Following this year's positive pax traffic and after two years of unprecedented restrictive measures due to the pandemic, Aegean Airlines is changing its concept and upgrading the economy class meals on international flights!
In collaboration with Newrest, from October 6, Aegean is bringing back hot meals and snacks on all international class flights, depending on the route and duration of the flight.
During the flights of the short routes the meal offer incudes from sandwiches with feta cheese and sun-dried tomato, sandwiches with grilled vegetables and mandarin sauce, to mini briam pizza, kourou pie with stammangathi, peignirli and also its vegetarian version with vegetables and vegan cheese.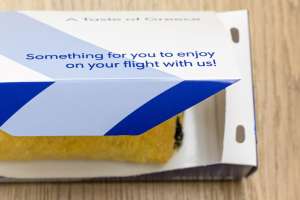 Regarding the hot meals offered for the longest flights, menus include soutzoukaki with mashed potatoes, soft beef burger with pepper sauce accompanied by potatoes and carrots, but also vegetarian suggestions of vegetable burger with rice and vegetables, as well as vegetable soufflé. Hot vegetarian meals now reach a high percentage of 40% of the total, which demonstrates the company's willingness to listen to passengers' preferences for healthy and tasty meals with a Greek twist.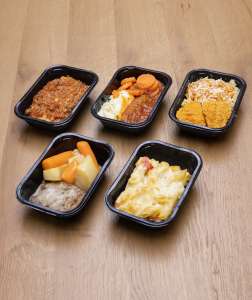 Finally, salads have a special place among the dishes on offer during the short flights, such as the one with whole wheat penne with turkey & vegetables, the quinoa salad with mustard with vegetables and honey, the Caesar salad with farfalle and turkey, as well as a version of a Greek salad with pasta fusilli.
The meals and snacks offered will rotate over the next few months depending on the seasonality of the menus and of the itineraries. The launch of the meals on Aegean flights took place from all Newrest stations in Greece and Cyprus and the passengers who tasted them seemed very pleased. The new beginning marks Aegean's return to pre-pandemic catering service.