A delicious menu was created by Newrest chefs for the company's customers on April as part of the NEO concept. The concept is based on healthy recipes with natural ingredients, which are, at the same time, valuable as crops for the planet.
This month's proposal was inspired by recipes of Greek islands with Leafy Vegetables as main ingredients , rich in vitamins: excellent for the metabolism, they are among the most nutritious foods. It is a real refreshing cocktail: fiber, provitamin A, vitamins B, C and K, amino acids, antioxidants and minerals, especially iron and calcium. Very low in calories, and an excellent source of vitamins.
Menu included the following:
Cold Appetizers
Ios chickpea meatballs with garnish of Mount Athos eggplant salad
Santorini fava with caramelized onions
Main Dishes
Tserepa octopus from Ithaki
Squids with rice from Chios
Dessert
Semolina halva with pistachio and cranberries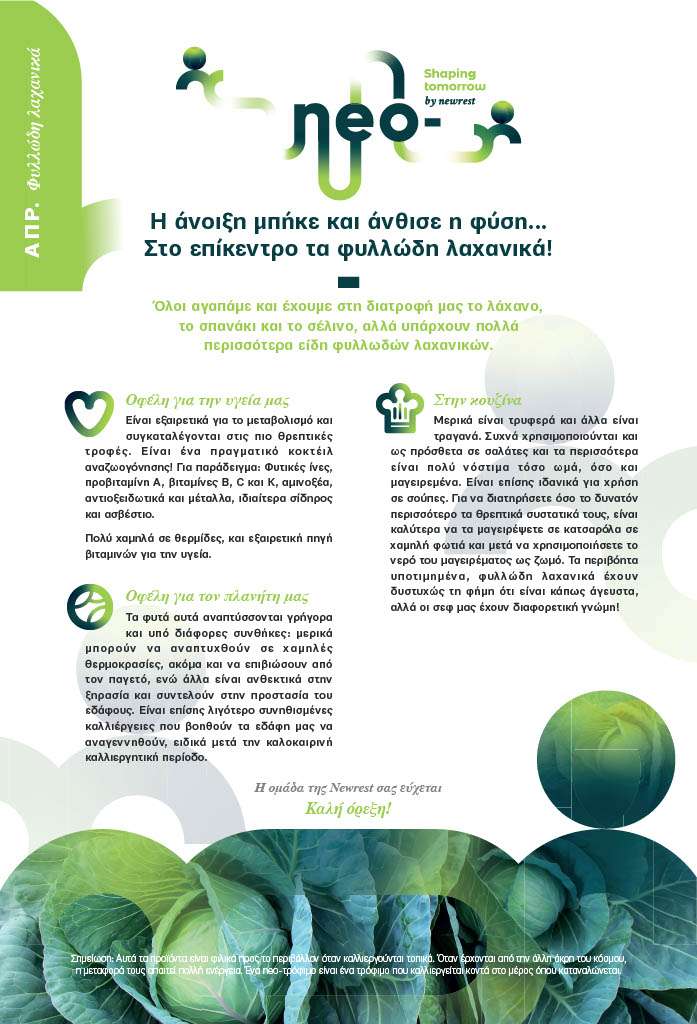 Leafy Greens
When growing leafy vegetables, we gain multiple benefits for our planet. These plants grow quickly and under various conditions: some can grow at low temperatures and even survive frost, while others are drought resistant and help protect the soil. They are less common crops that help our soils regenerate, especially after the summer growing season.
Since monoculture, that is the cultivation of the same varieties, destroys the soil and allows the easier spread of plant diseases, the inclusion of these vegetables in our diet and therefore their cultivation, contributes significantly to the balance of nature and the planet's survival.