Following the successful annual Gastronomy Programs that Newrest organizes in the restaurants of its clients, the program "neo -" started this year.
The campaign focuses on the pure materials of nature and the obligation of each of us to build a more positive and sustainable world.
With neo -, Newrest wants to communicate a more appropriate approach to food. Each month the campaign will focus in a special food category that is excellent in terms of nutritional value and favors the land in terms of minimal use of natural resources and conservation of plant varieties, through increasing demand and therefore their cultivation.
The campaign started in the week 15/11 with one of the most popular and valuable products, the mushroom!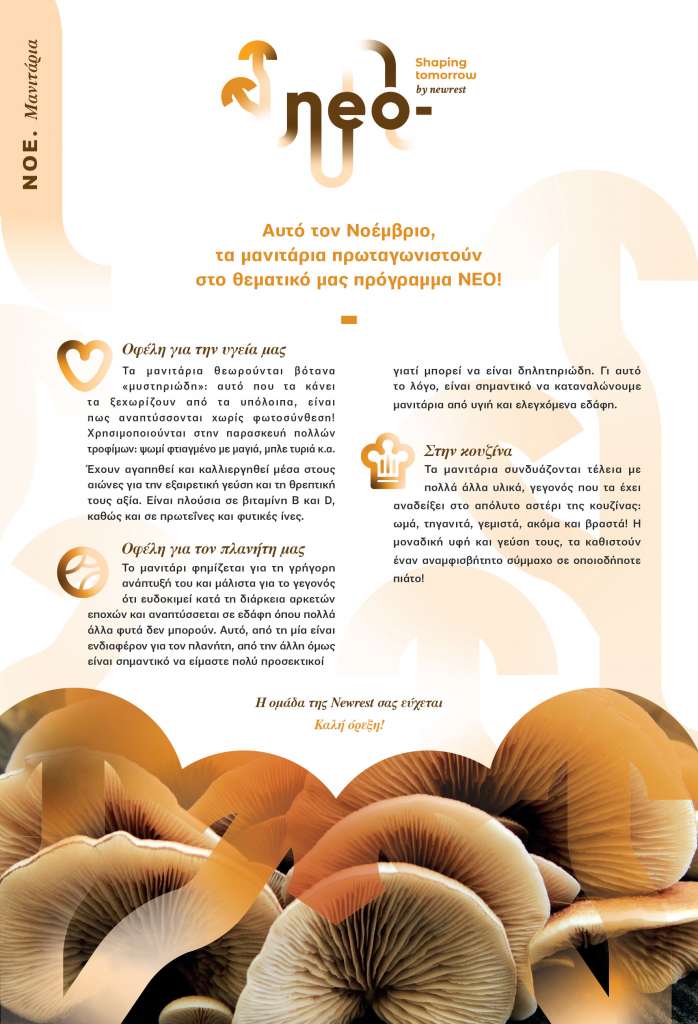 Menu included the following:
Appetizer
Eggplant tart with gruyere, apaki of Crete & porcini mushrooms
Cold cabbage-dolmades with mushrooms & cottage cheese of Domoko
Salad
Fresh white mushroom salad flavored with curry, dried fruits & fig sauce
Main Course
Chicken Fricassee with portobello mushrooms & baked potatoes
Dessert
Panna Cotta with yogurt, honey & cantharellus mashrooms
Decoration is a basic element of Newrest theme campaigns: this time it was dedicated to the mushroom and its history, giving a special ambience to the company's staff restaurants.
The campaign has already been loved by Newrest customers, as it turns their lunch break into an original gastronomic experience!
The neo – gastronomic journey continues in 2022 with original recipes based on incredible combinations of pure natural ingredients by Newrest chefs.