Newrest Athens Unit is proud to have been awarded the "SAFE by Newrest" label.
In the current pandemic context, Newrest very quickly published COVID-19 QHSE guidelines that have been put in place at each of the company's sites and units around the world for the protection of its employees, customers, and visitors.
Newrest has also created "Safe by Newrest", a high standards certificate in terms of Health, Safety & Hygiene, awarded to the Newrest units only after review and strict internal controls by the Group QHSE auditors.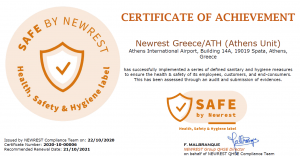 This new label is an additional guarantee of the company's operations and allows, among other things, to evaluate and review the protocols, procedures and preventive measures of occupational safety and hygiene put in place to restart or continue the activities of the company in safe sanitary conditions.
Thus, "SAFE by Newrest" gives additional assurance to Newrest employees, customers and consumers that all the necessary sanitary measures have been taken to secure operations in order to allow the production and delivery of quality and safe food.